Lamborghini Huracan Rental
Lamborghini Huracan Rental Drive the 2023 Lamborghini Huracán EVO Spyder and experience the thrill.
Designed for those who crave speed and style, this black convertible sports car features a naturally aspirated V10 engine.
what's more Rent Lamborghini Huracan Evo Spyder 2021 in Dubai, UAE.
Standard mileage limit of 250 km/day is included in the rental cost (an additional AED 15 per additional km applies).
besides We require a security deposit of AED 5000 in the form of a credit card or debit card.
Rent Supercar in Dubai
Depending on how you perceive it, you're the coolest friend with a vibrant and engaging lifestyle when you drive this car's power and elegance.
moreover Get behind this Lambo's wheels, and refresh your spirit with its strength and comfort whether you're trying to enhance your mood, enjoy your vacation, go on a date with your loved one, or try a new adventure in the UAE. It has never been easier to live a thrilling life than with Lamborghini Rental Dubai.
Drivers must be at least 21 years old
You will need to provide a copy of your passport or Emirates ID card along with a copy of your driving license
There is a mileage limit of 250 km per day, and an additional mileage charge of 15 AED per kilometer is applied
Toll Charges: 5 AED
Comprehensive insurance is included
The excess claim is 5,000 AED
The security deposit of AED 5,000 is refundable after 30 days after the car is returned
(Full to Full) when you pick up your car, the fuel tank will be full or partially full. Please replace the fuel before returning the car.
In Dubai, delivery and pick-up are free of charge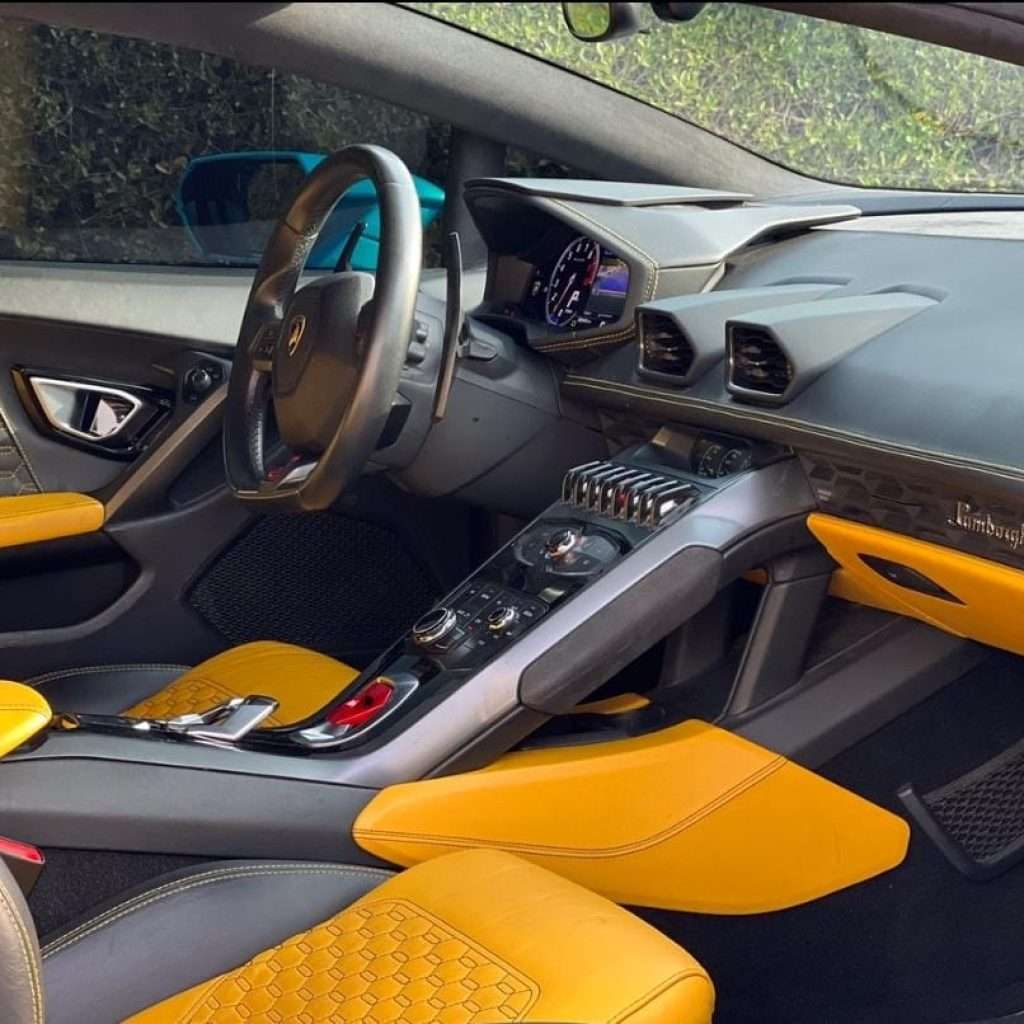 Maher Car Rental in Dubai offers you Lambo's latest open-top model, the Huracan Evo Spyder.
Featured is a 5.2-liter V10 engine with a cross-flow cooling system that uses oil and water.
The engine delivers 640 kW of power and 443 lb-ft of torque as well. That's pretty astounding, isn't it?
Featuring a pure white color mixed with black interior furniture,
finally it's sure to lift your spirits, making you feel like you're riding the clouds.