Porsche Boxter GTS Cabrio in Dubai
Porsche Boxter GTS Cabrio Rent in Dubai will have the wind in your hair and the sun on your face. Glide down the roads of Dubai and experience the excitement to the fullest. and the Porsche Boxster is a famous and surprisingly good car. You can rent Porsche Boxster in Dubai today and experience an adrenaline rush that will take your breath away.
When you get into this magnificent vehicle, you won't want to leave your seat.
Rent Porsche Boxster Dubai
Our Porsche Boxster rental in Dubai lets you live the tours the way it's supposed to be lived.
Porsche always provides great specifications and the best features in its vehicle. Hence, in order to create an extraordinary exotic car,
they went ahead and made this Porsche Boxster even more enjoyable to drive. A splendid car like this is perfect for explorer the modern city.
As Porsche's most raw convertible sports car, the Boxster 718 offers the best drive experience.
Cars like this built to set lap times or be the most practical. Rather, it designed to provide you with the best experience.
As well as superb handling, great interior design and build quality, powerful engines, and perhaps the best transmission in the industry.
Car Rental Dubai
With its lightweight body, quick and easy soft-top convertible roof, and some of the best steering you'll find on any car today, the Porsche Boxster 718 offers one of the most involve drive experiences at the moment. Its turbocharged inline-4 engine will make you smile from the moment you start it.
In terms of open top experience and enjoyment behind the wheel, the Porsche rental Dubai is hard to beat.
Rent Porsche Boxster in JLT
We can rent you a Porsche Boxster in Dubai and let your worries fade away. You need a  car like this in your life in this modern city.
Thanks to our competitive prices and compelling offers, you're dream car can be yours easily and in a few minutes. Rent Porsche Boxster and live your life to the fullest.
Call now and let us take care of the rest. 00971561154053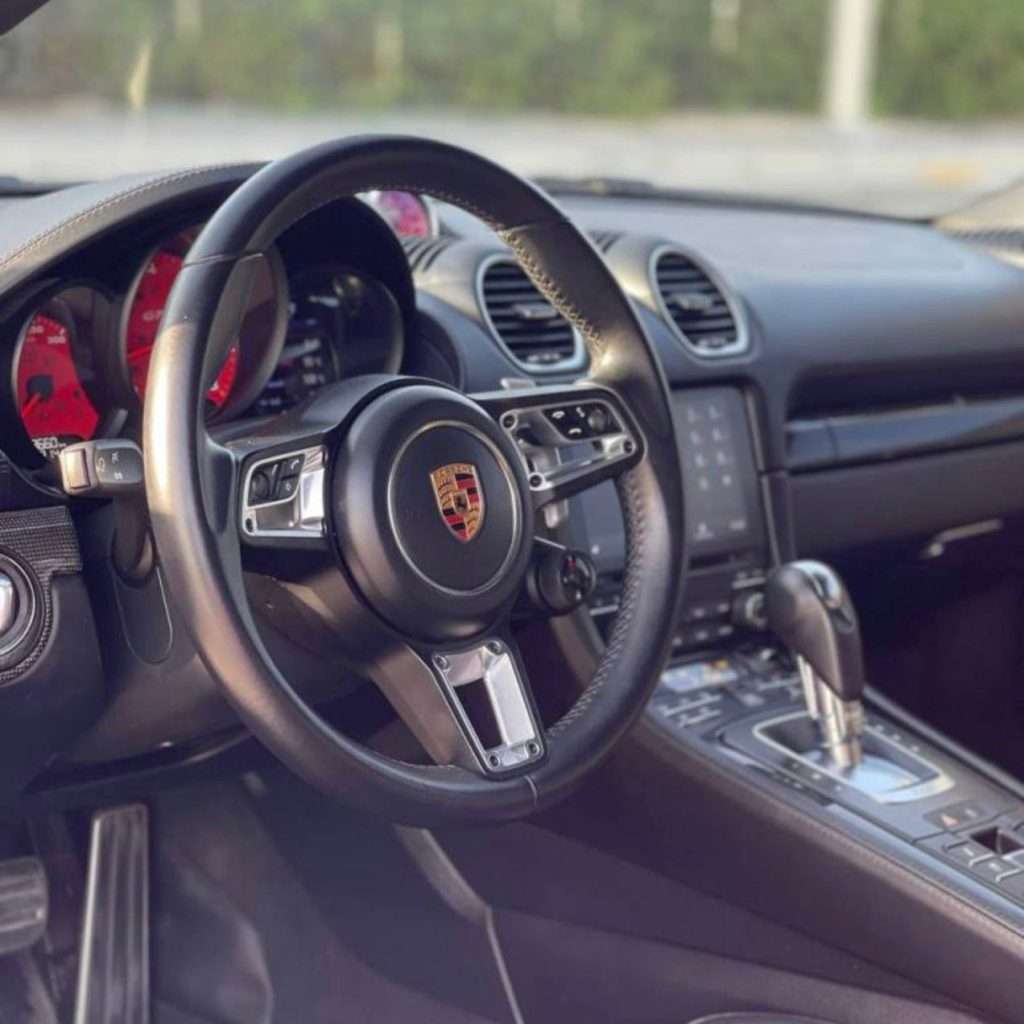 A copy of your passport or Emirates ID and a copy of your driving license are required
You are limited to 250 kilometers per day, with additional mileage charges of 5 AED per kilometer
A driver must be at least 21 years old
There is a toll charge of 5 AED
Porsche has always spent a great deal of time on each of its car models to ensure great performance.  Because they take care of detail, each of their car models is the best features and specs in the automobile industry. This car is recommended based on its powerful performance.
We have an amazing Porsche white color finish on our car's entire body, and thanks to its topless roof, we can see the elegant leather inside. It it a low body that gives it the perfect speed boost thanks to aerodynamic technology.
Performance is key when it comes to the manufacturing of the Porsche Boxster model. This car with a turbocharged 2.5-liter engine with horsepower that can reach 350 hp. It comes with a seven-speed automatic transmission that brings out that burst of fiery speed onto the roads. With this kind of power, you can take on the world and become king of the streets.
Rent a  Car in Dubai
Comprehensive insurance is included
3,000 AED for excess claims
AED 3,000 security deposit is refundable after 30 days from the date of return of the car
You will pick up your car with a full or partly full fuel tank (Full to Full). Just before you return the car, please replace the fuel you've used.
Delivery & pick up: Free of charge inside Dubai